Northwest Barrie United Church
Children and Youth are important and valued members of our community at Northwest Barrie United Church!  They participate in our Sunday services and within the greater life of the church.  At NWBUC, we provide many exciting programs and activities for children and youth!
Each Sunday morning, children and youth participate in the service for the first part of the service.  After the children's time with Rev. Phil, they are invited to take part in our Sunday school program, specifically geared to each age group.
In addition, we have several inter-generational Sundays throughout the year when the children and youth participate in a special way during the Sunday service.  This may include singing, presenting a skit, or helping in the leading of the service.  On Christmas Eve, the children and youth present a pageant during our early evening service.
SUNDAY SCHOOL
Our Sunday school is big, bustling, and busy! We provide programming from JK up to grade 12 and every age in between.
We have dedicated volunteers who love working with children and youth. We use a curriculum that is inclusive, joyful, and compassionate.
Together we explore what it means to grow in faith, to know God's love, and to learn about our purpose in the world. We use biblical stories and other faith-based themes to learn what it means to live a fulfilled life in relation to others and to our world.
We also draw from other spiritual traditions and encourage our children and youth to respect all faiths and all walks of life. We discuss social justice issues and participate in outreach projects within our community and abroad.
 Our programs are geared to the different age groups within our Sunday School. We use music, art, games, media, and a fun curriculum to engage the children and youth.
We also provide grades 7 to 12 an opportunity within their class to share their thoughts and questions on their own spiritual beliefs, social justice, current events, and other topics that are meaningful to them.
Sunday school Registration is year-round and friends and visitors are always welcome!
Our Nursery is a welcome place for infants and children under 4 years of age.
The Nursery volunteers are adults and youth who help supervise, and parents are welcome to stay if they wish. For parents who would like to go back into church, pagers are provided to contact you in the sanctuary should the need arise.
Our Nursery is well-equipped with crafts, toys, and many fun things to do. The Nursery is staffed just before the children's time in the service.
Infants and toddlers are always welcome in our services, but a unique option at our church that many new parents love is an area overlooking the sanctuary were you can attend to the needs of your infant or toddler, but still see the service and hear it through a speaker system.
Our Youth Group is open to youth in grade six up to grade twelve. We meet at least three times a month for fun activities that include seasonal themed parties at the church, bowling nights, movie nights, outdoor activities, and Gym Night at a nearby school.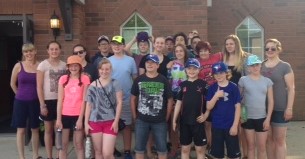 Regular Office Hours
Mon - Fri
9:00 a.m - 1:00 p.m.
Tues to Thurs
9:00 am to 1:00 pm
Sundays 10:25 AM
Sunday School 10:45 AM

464 Ferndale Drive North,
Barrie, ON
L4N 7X6
We would love to hear from you.
"*" indicates required fields
Email Us
Rev. Phil Dallimore, Minister   minister@nwbuc.ca 
Catherine DeLenardo, Office Administrator office@nwbuc.ca 
Chris Fernando, Music Director & IT  music@nwbuc.ca
Sharon Foulkes, Youth Group and Communications  youth@nwbuc.ca 
Lori Scholten-Dallimore, Sunday School sundayschool@nwbuc.ca 
Daniel Johnston, Choir Director choir@nwbuc.ca