Northwest Barrie United Church
Our Youth Group is open to youth in grade six up to grade twelve.  We meet at least three times a month for fun activities that include seasonal themed parties at the church, bowling nights, movie nights, outdoor activities, and Gym Night at a nearby school.
Outreach is big with NWBUC Youth Group. We encourage youth to get involved in the community by providing volunteering opportunities within the community.
The Youth Group gets involved with church events such as at dinners, Sunday School and nursery and any other area of interest.
Anyone, whether they attend our church or not, are always welcome at our youth events. It is a great opportunity to meet new friends and participate in fun, exciting activities in a positive and inclusive environment.
For more information please contact Sharon Foulkes at youth@nwbuc.ca or call the church office at 705-734-3700.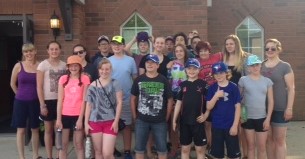 Regular Office Hours
Mon - Fri
9:00 a.m - 1:00 p.m.
Tues to Thurs
9:00 am to 1:00 pm
Sundays 10:25 AM
Sunday School 10:45 AM

464 Ferndale Drive North,
Barrie, ON
L4N 7X6
We would love to hear from you.
"*" indicates required fields
Email Us
Rev. Phil Dallimore, Minister   minister@nwbuc.ca 
Catherine DeLenardo, Office Administrator office@nwbuc.ca 
Chris Fernando, Music Director & IT  music@nwbuc.ca
Sharon Foulkes, Youth Group and Communications  youth@nwbuc.ca 
Lori Scholten-Dallimore, Sunday School sundayschool@nwbuc.ca 
Daniel Johnston, Choir Director choir@nwbuc.ca